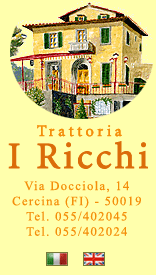 For reservations, suggestions or criticisms, please use the form below, or send an e-mail to: iricchi@iricchi.it
or to telephone directly to +39 55.402045 - +39 55.402024
I Ricchi declares, on the basis of the Privacy Law currently in vigour, that the data collected will be kept at the Head Office. This data will not be used for commercial purposes or given to third parties. I accordance with Law n. 675/96, I Ricchi guarantees confidentiality of all personal information. At any time, given time, a client may request deletion of his/her data by sending an e-mail to iricchi@iricchi.it.